I love staying in hostels, most of the time! And why do I like them so much?
Hostels are a cheap accommodation option
Yeah that's right. Hostels are the cheapest accommodation option for travellers unless you have a free bed somewhere. What makes it so cheap is the fact that you are sharing the room with other people. It is not uncommon to be in a room with 4, 6, 8 or more bunk beds. It doesn't usually worry me that there are other people in the room cause most of the time after a long day of travelling/sightseeing I am usually able to fall asleep very quickly. I often treat my hostel accommodation as just somewhere to lay my head, I don't ever treat it as my home away from home otherwise I would never stay there. My main motivation of staying in a hostel is the cost. The less I pay for accommodation the more I have to do other things.
Hostels are clean, comfortable with lots of amenities
Another thing I like about hostels is that they are clean, comfortable and offer lots of different amenities. Gone are the days of dingy, dirty places as hostels now have a lot of competition out there so must be able to compete. To do this they offer things such as a pool, fully-equiped kitchens or a cafe, tour desk to book tours, BBQ areas (usually with a weekly BBQ), complimentary bus pick-up or drop-off from train/bus stations to your hostel and provide bedding. When choosing a hostel stay I take in to account the amenities. What I mean is if I want to party I stay at a hostel that has a bar and if I want to relax I stay at a hostel that might only have a TV room. So before you choose a hostel take in to account what you want out of it. They are also in some great authentic places to stay in such as a chalet, a castle, in a rainforest, by the beach and in a mountain retreat. Hostels are literally everywhere and one of the best ways I find them are through my favourite booking site Hostel World . They have the best interface and deals.
You can meet like-minded people in a hostel
One of the things I love about staying in a hostel is that when I am travelling on my own I can meet like-minded people in a hostel. On a number of occasions I have met people that I have ended up travelling with and to this day, some of them remain great friends and if we are ever on the same continent I know I have a free bed with them. But I don't always meet 'single and young' travellers in a hostel, sometimes there are families, couples and older people. All with their own stories and reasons for staying in a hostel.
I know I am safe and secure in a hostel
My personal safety and safety of my belongings are essential to me and I know when staying in a hostel I am safe and secure. It helps that most hostels offer lockers in rooms to store your belongings, have security cameras and usually a special code/key to get in and out of the front door. These things make me feel safe and secure during my hostel stay.
Even though there can be down sides to staying in a hostel such as snorers, bonkers and rude room mates if you asked me would I stay in a hostel, I'd say, you bet I would!
If you are interested in staying in a hostel during your travels, or even working in one, check out Hostel World. This booking engine allows you to compare hostels and book your hostel stay.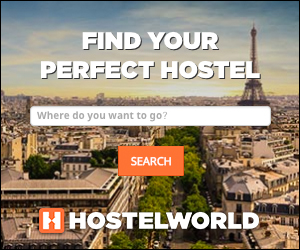 About the author: Sharyn McCullum (shazzatravels) has spent many a night in a hostel dorm bed, some stays were good and some not so good but overall, she regularly stays in hostels.